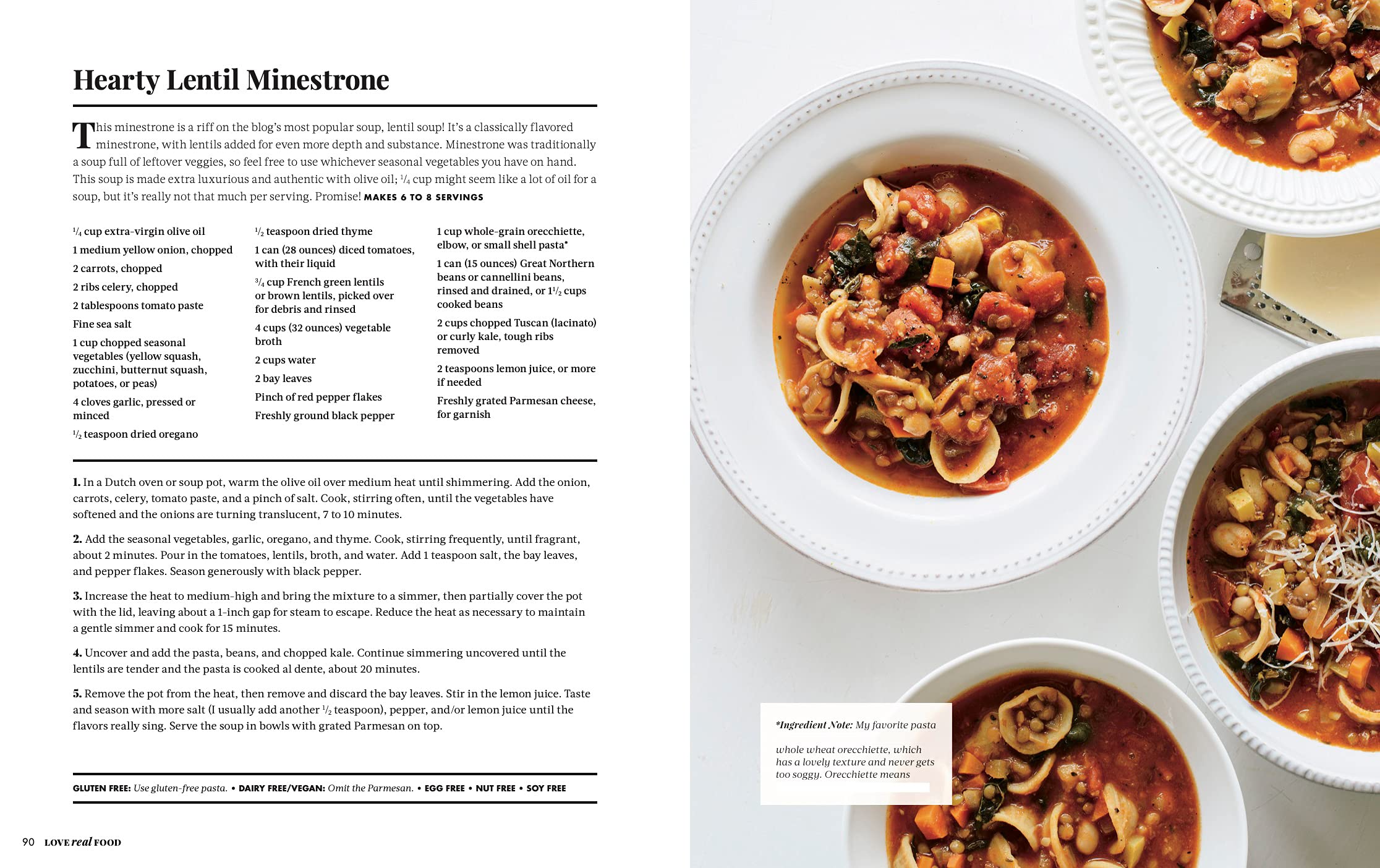 Love Real Food Cookbook Review
Love Real Food Review
Love Real Food is one of our family's favorite vegetarian cookbooks ever. Honestly, we haven't made a recipe in this cookbook that we haven't loved. It's that good! In addition to having easy, tasty recipes, the author of Cookie and Kate provides ways to make every recipe gluten-free and/or dairy-free.  
Some of the Jorge's go-to dinner recipes from Love Real Food (Cookie and Kate recipes):
(These are listed in order of ease)
Sun-Dried Tomato Fettuccine Alfredo with Spinach (pg. 154)
Who knew cashews, lemon juice, and hot pasta water could create a creamy sauce that rivals the real deal?  This recipe comes together super quickly on a weeknight.  We often increase the amount of spinach or kale that the recipe calls for and serve it with a hearty side of roasted veggies, like broccoli or asparagus.
Carlos' Italian mom approves of this recipe, which says a lot!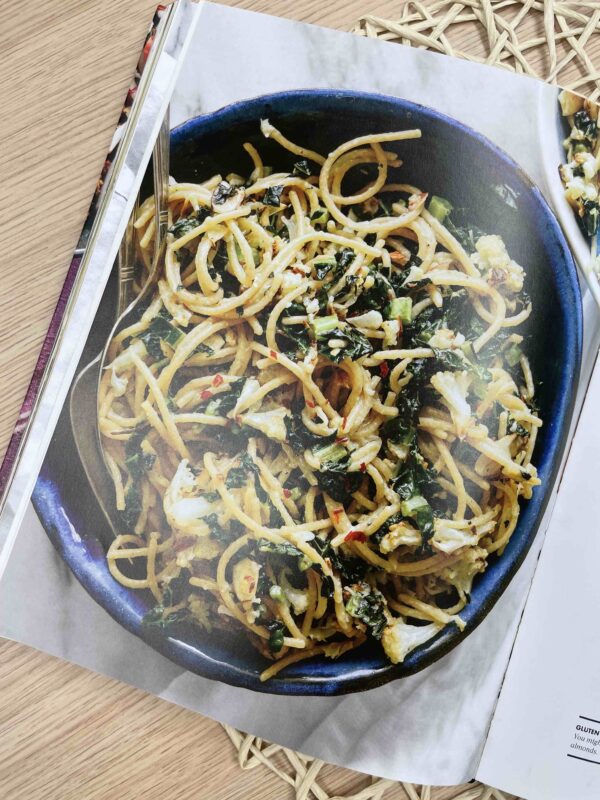 Roasted Broccoli, Bell Pepper, and Tofu Bowl with Peanut Sauce (pg. 175)
This is a very versatile, easy weeknight recipe depending what produce you have on hand. We regularly add red onions to the mix and roast those along with the called-for red peppers. Green peppers, which we have in abundance during the summer, work too!
Everyone in our household likes that they can choose what they want to include in their own bowls, even the sauce since it goes on at the end. And if you end up with extra roasted veggies, you can always use them in another recipe or salad later in the week. Another tip: we always double the peanut sauce to have some on hand to make meal prep even easier the next time around.
We use our fancy air fryer (we purchased this much used kitchen powerhouse at a discount last holiday season!) to make the tofu. We also simplify Kate's tofu prep by cutting the tofu into bigger pieces. Next, press the tofu after its sliced, then brush it with a mixture of sesame oil and tamari (we skip the cornstarch/arrowroot) before popping it into the air fryer. We recommend keeping an eye on it because cooking times vary depending on the size of your tofu pieces.  Flip the tofu when it starts to crisp up on top and turn off the heat when the other side is done.
Chickpea Tikka Masala (pg. 157)
Everyone in our family loves this recipe. It takes a little time (but it's doable!) to assemble the dry spices, so we often measure out extra spice "packets" to keep on hand for the next time and/or to use in other recipes. We make the green rice in an Instant Pot, and both the masala and rice freeze well.
The Tikka Masala dry seasonings are also tasty sprinkled on cauliflower that's been tossed in a little avocado oil before roasting.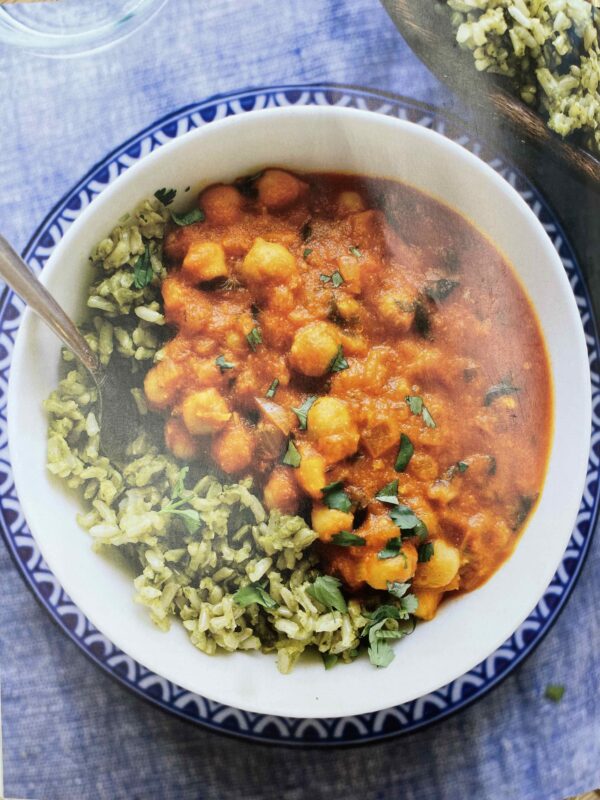 Sweet Potato, Poblano, and Black Bean Enchiladas (pg. 148)
This one takes a little more time, but it is extremely versatile. You can swap out the filling with just about any vegetable or animal protein. You can easily double the sauce recipe and freeze it for future use. We often divide the recipe into two smaller pans and freeze one unbaked for a future quick reheat meal.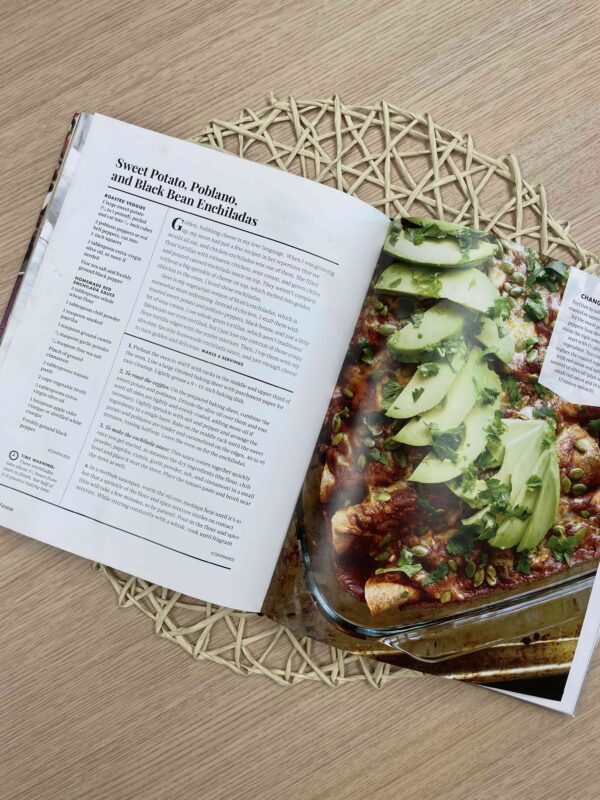 Roasted Eggplant Lasagna (pg. 163)
This one also takes a little more assembly time, but it makes a lot and freezes well for a future quick reheat meal.  We like using these Explore Cuisine lentil lasagna noodles for a gluten-free option.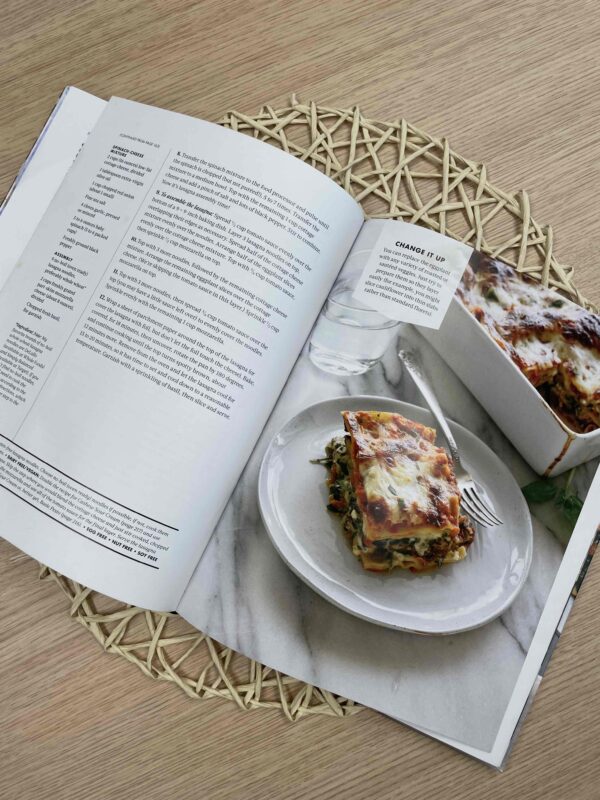 So there you have it. Clearly our Love Real Food review shows … we are fans!! We'd love to hear if you have any other Cookie and Kate recipe favorites or cooking tips!
This is for general informational purposes only and does not constitute any practice of medicine or professional health care services of any type. The use of information on this blog is at the user's own risk. The content of this blog is not intended to be a substitute for professional medical advice, for diagnosis, or for treatment. Please seek the care of your health care professionals for any questions or concerns.