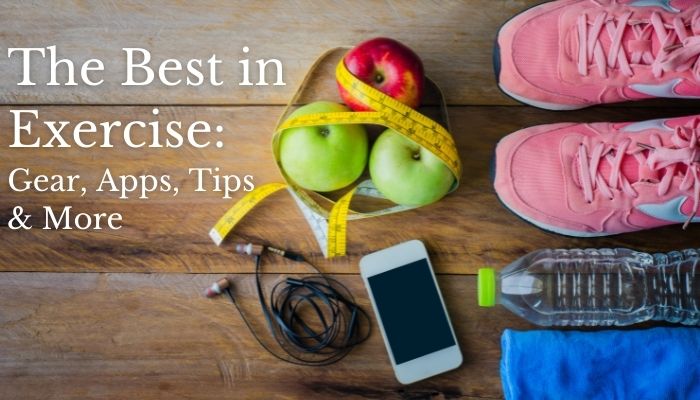 Our Favorite Exercise Gear & Apps
Do you find that hearing about something can often be the best way to find your new love of the week? We think so! And for that reason, we've compiled a list of some of the exercise gear (and apps) that we like.
We hope you find something new that you love—and we also know that you likely have something that you can share with us, as well—and we'd love to hear it! Feel free to add your fave in the comments section below.  And in the meantime, we hope you find a new idea to try out.
Some Suggestions from Charlotte Health Coaches
Elizabeth Jones, Certified Yoga Instructor and Health Coach
Product:
1. "I LOVE this foam roller–magic!," says Elizabeth, of this trigger point release foam roller. And 17,000+ positive reviews on Amazon means she probably isn't alone.
If you aren't rolling, you may want to consider adding it into your routine. Foam rollers provide benefits such as decreased muscle and joint pain, increased circulation and flexibility, improved range-of-motion, better balance, and improved gait.
Online resource:
2. I also LOVE these exercise videos–lots of choices with workouts as short as 10 minutes or up to 45 and include everything from focusing on a targeted area (like 10 minute arms using your own body weight) to 20 minute yoga flow to 45 minute all-body Pilates with stretch. You can combine individual short target area workouts to create longer workouts. She also has guided meditation videos as well. It's $10 a month and SOOO worth it (with 7-day free trial). They are especially ideal for those days when you can only fit in a quick workout or want to add a short stretch video after a run.
3. I just got an app From Couch to 5K and find it really helpful for beginning to add a little running to my walking routine. It is very doable and motivating. It runs in the background of your music or podcast to pace you as you go.
Nathalie Jorge, CEO of Companion Health and Health Coach
Exercise reflection:
Find an activity you love doing that aligns with your personality. As an introvert, I need time to recharge alone. On most days, I wake up, meditate, then go for a morning run outdoors. Running is much more than exercise for me. It is a spiritual experience, a reminder that I am part of the natural world. Do I ever have a bad day and not feel like running? Heck yes! That's why I always eat CHOCOLATE before a long run. Just joking—I eat it afterwards ;)
Tip:
Pick out clothes and shoes you feel good exercising in. As a long-term runner, I invest in high quality shoes and always have 2 different pairs that I alternate between over the course of the week.
Favorite online resource:
Take yoga classes at home from some of the best teachers out there. They offer classes as short as 5 minutes long, and you can choose your skill level ahead of time. Glo.com
Kiran Dodeja Smith, Health Coach and Director of Marketing (this piece is written by yours truly);)
Tip:
As a working mom of four, time is certainly of the essence and I try to make the most of my days so that I can accomplish what I need to. I enjoy time with friends, but it is sometimes difficult to fit it into my schedule. So I try to schedule 2-3 of my weekly workouts with friends. Whether this means going for a long walk and talking while walking, or getting a similar small group class on our combined calendars, I find these to be beneficial in so many ways. My body feels good from moving, my heart is full from the connection. Oh, and there's that accountability part, too!
If you haven't tried working out with a friend, I highly recommend it.
Katie Valentiner, Health Coach and Digital Marketing Strategist
Product:
Do you like to do Tabatas? Intervals? Relaxing with timed Yin Yoga poses? If so, the Gym Boss Timer is the perfect way to calculate your intervals.
Place:
The Ultra Running Company is a great local resource for all things running. If you are just starting, be sure to get measurements and suggestions on the best shoes for you based on your structure. If you don't live in Charlotte, try to find a local running store–they are often runners themselves :)
Tip:
Be sure to include a rest day. And get outside without your phone when you exercise!
Stevie Bruce, Health Coach and Nurse
Tip:
Reminder: even a little movement is better than no movement! 5-10 min still counts and bodyweight exercises are so easy and require no equipment.
Niki Hitch, Health Coach
Tip:
They say sitting is the new smoking, and the Pilates bridge is a great way to counteract the negative effects of sitting for long periods of time.  It's great for strengthening the glutes, lengthening the hip flexors and opening the chest … all of which are necessary after a long day of sitting at a desk or in a car, in a plane, or at the bar. (We don't suggest the last one, but it rhymes!).  No equipment is needed other than a mat or just the floor.  There are many variations so you can spice it up and keep it interesting.  Read more about the
benefits of the Pilates bridge.
Product:
These
resistance bands
have been a game changer for me. I've always lifted upper body weights like dumbbells, but I struggled with how to build lower body strength without access to a gym during the pandemic. These bands are so versatile, and such an easy way to incorporate lower body strength moves into your workouts at home.
What other tips or products do you enjoy? Please share in the comments below!
This is for general informational purposes only and does not constitute any practice of medicine or professional health care services of any type. The use of information on this blog is at the user's own risk. The content of this blog is not intended to be a substitute for professional medical advice, for diagnosis, or for treatment. Please seek the care of your health care professionals for any questions or concerns.