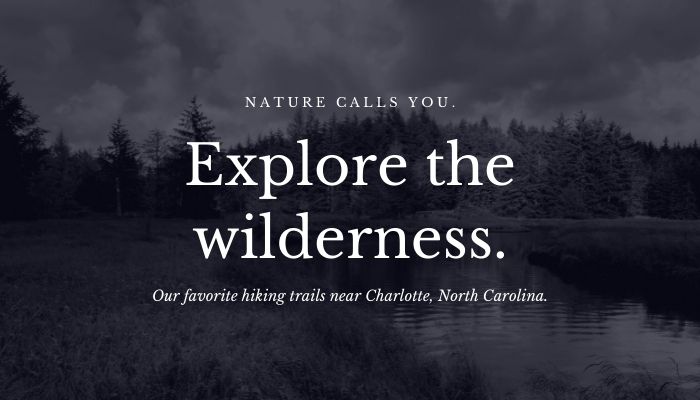 Best Hiking Near Charlotte, NC
Best Hiking Near Charlotte, NC
Whether you're a resident or visiting, finding the best hiking in Charlotte, NC is a big thing on many of our lists. Most of us have heard of the Greenways in town, which include Little Sugar Creek, Four Mile Creek and McAlpine Creek. But perhaps you're looking for something a little off the beaten path (pun intended!). If so, we have a list of some local places to get out in nature. 
Grab a backpack.

Put on those walking/running shoes.
Maybe bring a picnic.
Make this an outing that's good for your body and good for your mind!
Some of our favorite places to hike in and around Charlotte
U.S. National Whitewater Center—Most everyone has heard of the Whitewater Center, and it often makes an ideal destination for visiting friends and family. But what you may not know is the vast number of trails that they have.
Pay just $6 for parking and pick your poison. There's also plenty of people watching and drinks and snacks available for before or after.  
Anne Springs (Fort Mill)—This one's a little more expensive to park, but there are 40 miles of trails to venture out on.
Colonel Francis J Beatty Park—A favorite for mountain biking, running or a good nature walk, you'll find lots of trails at Beatty park to explore. We suggest bringing a map (AllTrails has an app that is useful for this) as it can be easy to get lost.
Evergreen Nature Preserve—Located near Central Avenue, this 77 acre preserve has a total of 1.8 miles of trails that are suitable for kids, too. Most of it is canopy covered, which is ideal for warmer months.
McDowell Nature Preserve—Find 7 miles of trail offering hikers and nature enthusiasts the opportunity to explore a variety of terrain with scenic views of Lake Wylie, forests, streams, and a piedmont prairie restoration area. Be sure to check out the nature center when you are there if that interests you.
Latta Nature Preserve—The largest nature preserve in Mecklenburg County, the Latta Nature Preserve offers over 16 miles of trails available for hiking and horseback riding to enjoy the beautiful scenery within the forest. Being the only public property open to horseback riding, visitors can bring their own horses to enjoy thirteen miles of trail.
Twelve Mile Creek Greenway—Located in Waxhaw, this trail may take you a bit to find, but you'll cross a suspension bridge where you can touch two states at the same time. How cool is that?! Meander through 7.4 miles of trail through forest on bike or foot. Don't forget your furry friend. 
Stevens Creek Nature Preserve—The newest of the nature preserves in our locale, this is located in the Mint Hill area and boasts a few trails, all shorter than 2 miles. Trail frequenters enjoy the silvery beech that can be seen along your route.
There are plenty of other great trails out there, but hopefully you can find one or two on this list that you haven't tried yet. 
How about you? Are there other hiking trails near Charlotte, NC that you enjoy? We'd love to hear about them in the comments below!
This is for general informational purposes only and does not constitute any practice of medicine or professional health care services of any type. The use of information on this blog is at the user's own risk. The content of this blog is not intended to be a substitute for professional medical advice, for diagnosis, or for treatment. Please seek the care of your health care professionals for any questions or concerns.